Kindergarten Education BA part-time
Kindergarten Education BA part-time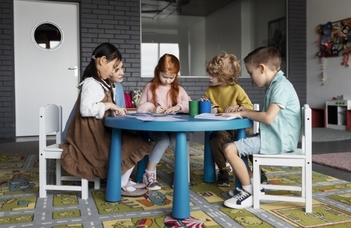 INFO SESSION FOR PROSPECTIVE STUDENTS:
STUDY KINDERGARTEN EDUCATION BA AT THE TOP UNIVERSITY OF HUNGARY
This is the complete recording of the online info session "Study Kindergarten Education BA at Eötvös Loránd University (ELTE) in Budapest" held on 31 March 2021.
Do you work with children, but have no qualification yet? Take the first step toward benefitting from your passion and experience! Get a full-degree BA in Kindergarten Education! Apply now to the part-time BA Programme in Kindergarten Education!
Applicants are expected to have at least one year institutional work experience (private jobs −like babysitting− are not enough) in early childhood education.
For international students, we offer a full degree Kindergarten Education BA Programme, in which the language of instruction for the entire program is English. The program is conducted in person, at the Faculty of Pre-School and Primary Education in Budapest, Hungary
You can find detailed information about the programme (description, entry requirements, admission, fees) here: Kindergarten Education Programme - part-time. Level of the study programme: BA/BSc Work schedule: part time Nominal duration: 6 semesters / 3 years Intake: Fall/Spring Language of instruction: English Place of education: Budapest (at the Faculty) Days of classes: Friday afternoon, Saturday Programme Structure: Programme Structure
We welcome students from all over the world!
Why choose us? Let's see, step by step:
Why Budapest?
As the capital city of Hungary, Budapest offers amazing places, a rich cultural background, word-class festivals and a vibrant day- and nightlife. Find out more here or here, or just google it yourself!
Why ELTE?
Eötvös Loránd University (ELTE) is the oldest and largest university in Hungary and the most popular higher education institution among applicants each year. The University has eight faculties. With a wide range of student services and facilities, ELTE provides a truly academic environment. Read more about ELTE here!
Why our Faculty?
Our faculty (the Faculty of Primary and Pre-School Education) is close to the inner-city area, yet still located in the beautiful, green district of Budapest. Take a look at our facility and get familiar with the area/neighbourhood with the help of our two, first-year, Hungarian, pre-school students: Peek-a-Boo :)
The Faculty of Primary and Pre-School Education has a 150-year heritage as a teacher training institute. Throughout the three years (six semesters) of this programme, completing your psychological and pedagogical studies allows you to learn how to care for and educate kindergarten-aged children continuously, with real pre-school practice. Thanks to this practical training, you will be able to begin your career easily, no matter where precisely in the world you start working!
How to apply?
Application platform for International self financing Students:ELTE website The deadline for submission of applications for Februry intake is: - The deadline for submission of applications for September intake is: -
Online Entrance exam process
Aptitude test – written
Language aptitude test in English – written (Motivation letter)
Aptitude test – video file
Aptitude Test in Physical Fitness – video file
Physical aptitude is specially designed to cater to the level of aptitude that the candidate has a basic physical skills; his/her physical ability is qualified for the teacher's profession; and the ability to acquire the curricula of the pre-primary's physical education. Applicants have to upload a self made video according the requirements attached here that prove their physical suitability. If you need more information ask the coordinator.
Our special Medical certificates
Health statement (download)
Physical aptitude statement (download)
Note: These are the only acceptable documents concerning the health and physical status of the Applicant!
Online Aptitude tests (approx. 30 Minutes)
After sending all the necessary application documents, motivation letter, medical certificates and the Physical aptitude video the applicant takes a professional entrance examination via Skype organised by the Admission Committee of the Eötvös Loránd University Faculty of Primary and Pre-School Education.
The candidate needs to pass all of the aptitude tests.
Place of entrance examination: Online
In case you would need more detailed information or have a question in connection with your admission process, please contact the program coordinator.
Photos
Photos